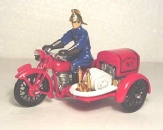 We are a very small, mainly family run business based for the past 25 years in a rural South Staffordshire village in the heart of England. Established in 1971 by our proprietor Dave Gilbert – a life long model vehicle enthusiast who produced and marketed his first professional creation that same year.
Since that time, Dave's creative activities have been seemingly inexhaustible, resulting in many different ranges, scales and type of model vehicles being deigned and produced by him:
D.G Models, Dinky style vehicles, Copy Dinky, Autocraft's various ranges, Budgie Models Morestone and Modern Products (from the original dies) 54mm motorcycle, scooters, yesteryear Code 3's, a large range of 4mm vehicles and figures...the list goes on!
Dave's latest creation is the 1928 Morgan Aero in 1/32# - the first of a planned series of Morgan 3 wheelers.
The customer really counts with us and we aim to please in all aspects of our activities – please get in touch if we can be of any assistance – we are delighted to be of service.
Please note: we supply mail order ONLY – our business premises being situated within a site licensed as craft/manufacturing units only are off limits to the general public.